Office of the Deputy Governor
Release Date:
Thursday, 18 February 2021 - 9:48am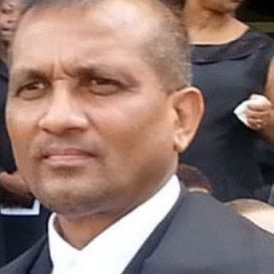 Constitutional, public and criminal law expert Justice Darshan Ramdhani has joined the Virgin Islands' bench as High Court Judge.
Justice Ramdhani has more than 20 years of professional legal experience and was first appointed as the Organisation for Eastern Caribbean States Supreme Court High Court Judge (Ag.) in 2013. Since then, he has served as Acting High Court Judge on various appointments in St Kitts & Nevis, St Lucia, Antigua, Anguilla and the BVI, presiding over major constitutional, public law and criminal trials.
Governor John J. Rankin, CMG said that having experienced Criminal Justices is one important component of a strong legal system in the Territory.
"Justice Ramdhani comes to the Territory with a strong record of experience in criminal matters, and also with experience in training and development of prosecuting attorneys," Mr. Rankin said. "I look forward to his skills and talent strengthening and improving the Territory's criminal courts."
Justice Ramdhani held the post of Attorney General for Grenada from January 2019-2020, guiding the country's COVID-19 regulations and laws facilitating an E-Litigation platform for courts. He has also served as Solicitor General in the Attorney General's Chambers, Grenada; and as Senior Crown Counsel in the Grenada Office of the Director of Public Prosecutions.
He was a lecturer/tutor at the University of Guyana from 1998-2001, and is the author of the textbook on criminal procedure Confession Evidence.
Ramdhani has also served as a legal expert on such initiatives as the Organisation for American States' training programme on Human Trafficking laws in the Caribbean; the World Bank's World Justice Rule of Law Project and The Inter-American Anti-Corruption Body.
###
Note to Editors: Image included
Photo: Justice Darshan Ramdhani
Author