BVI Finance
Release Date:
Wednesday, 12 October 2016 - 1:25pm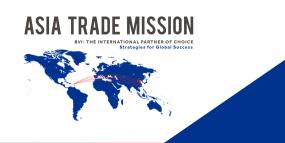 BVI Finance, in collaboration with the Premier's Office and BVI House Asia, is hosting the 2016 BVI Asian Trade Mission in an effort to deepen and expand the British Virgin Islands' footprint in the Asia Pacific (APAC) region.
The 2016 BVI Asian Trade Mission will be held under the theme Strategies for Global Success - BVI: The International Partner of Choice. The delegation attending the two week event will be led by Premier and Minister of Finance, Dr. the Honourable D. Orlando Smith, OBE and includes Interim Executive Director of BVI Finance, Mrs. Lorna Smith, OBE, Permanent Secretary in the Premier's Office, Mr. Brodrick Penn, Financial Secretary Mr. Neil Smith, along with other senior government officials and industry stakeholders.
As the global economy undergoes a historic paradigm shift and the centre of business and economic activity moves from West to East, countries in the APAC region like China, which according to the International Monetary Fund (IMF) is the world's largest economy by purchasing power parity, have gained an increasing amount of economic sovereignty and require more sophisticated financial services products.
Commenting on the trade mission's importance to the APAC region and the BVI's financial services industry, Interim Executive Director of BVI Finance, Mrs. Lorna Smith, OBE said, "BVI products have been effectively used by Chinese business leaders, state owned enterprises and individuals over the last 25 years, so much so that the BVI is among the top five jurisdictions for inward foreign direct investment into China."
She added, "The BVI is well placed to fulfill the APAC region's diverse range of needs including everything from capital markets and investments to wealth planning."
From 17 October to 28 October the trade mission will make stops in Hong Kong and four Chinese cities - Beijing, Hangzhou, Tianjin and Shanghai. During that time the delegation will conduct a series of roadshows and host a number of meetings and receptions with executive level decision makers.
Additionally, members of the delegation will conduct a slew of interviews with various Chinese and international publications.
While in Hong Kong select members of the delegation will interview with CNBC; in Beijing, they will be interviewed by Beijing Business Today; in Tianjin the interview will be conducted by Economic Information Daily; in Hangzhou they will interview with Hangzhou Daily and in Shanghai members of the delegation will interview with Yicai (China Business Network) and 21st Century Business News.
The BVI's engagement in the Asia Pacific Region will also include a Memorandum of Understanding (MoU) being signed between the British Virgin Islands and the Tianjin Government. The MoU will strengthen the BVI's relationship with key stakeholders in the region and better position the BVI to assist with the Government's "Go Global" strategy.
For regular updates on the 2016 BVI Asian Trade Mission, visit the BVI Finance website at bvifinance.vg, or follow @BVI Finance on Facebook, Twitter and LinkedIn.
Author