Ministry of Education, Culture, Youth Affairs and Sports
Release Date:
Wednesday, 6 November 2019 - 4:59pm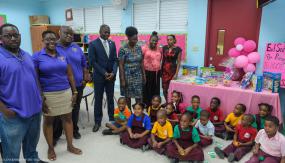 The principal, staff and students of the Enid Scatliffe Pre-Primary School (ESPPS) are the recipients of a quantity of school supplies courtesy of the British Virgin Islands Motor Sports Association (BMSA).
The association's representative Mr. Roy Thomas said that the school has always supported the organisation by allowing the group to use the school's premises to hold meetings.
Mr. Thomas said, "Mrs. Charles-Welsh was one of the first persons who gave us permission to use the school yard in the afternoon time when everyone else told us no. She said once you all are doing something good with the children and keep the yard clean."
Acting Premier, Honourable Kye Rymer and Principal, Mrs. Valerie Charles-Welsh accepted the donation on the school's behalf.
Honourable Rymer thanked the group for taking the initiative to give when they can and encouraged them to continue to give back to the community.
The organisation has in the past assisted the school including donating a cheque to a less fortunate child to purchase food and goods.
Principal Mrs. Charles-Welsh said, "My notion is that anything that could present itself to better a child, economically, academically, I am very much in receipt of it. I want to thank you and your group for being there for us all the time, we really do appreciate it."
The donation was comprised of writing books, learning games and other tools that will aid students in the advancement of their studies.
Author