Premier's Office
Department of Information and Public Relations
Ministry of Health & Social Development
BVI Health Services Authority
Release Date:
Tuesday, 4 April 2023 - 3:48pm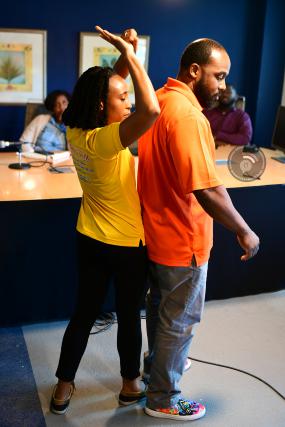 Members of staff at Department of Public Relations are featured as they facilitated a Basic Emergency Response Training on, March 31 with a certified Emergency Medical Technician (EMT), Ms. Christina Cheraymond of Save a Life CPR + First Aid Training.
Staff members were able to attain the necessary information needed to effectively manage possible emergencies that can arise at the workplace such as seizures, heart attacks, choking, asthmas attacks, strokes, etc.
Pictured is a demonstration of the Heimlich maneuver.​
(Photo credit: Ronnielle Frazer/GIS)
Author