Ministry of Natural Resources and Labour
Ministry of Education, Culture, Youth Affairs and Sports
Release Date:
Friday, 10 March 2023 - 5:23pm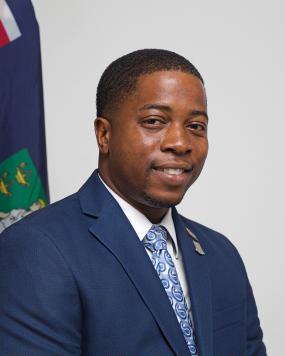 Minister for Natural Resources and Labour, Honourable Melvin M. Turnbull said that only thirteen (13) of the one hundred and twenty one (121) acres of land has been transferred to the Hamilton Lavity Stoutt Community College (HLSCC) from a procurement by the Government twenty (20) years ago.
Honourable Turnbull gave HLSCC its credit in his statement in the Fourth Sitting of the Fifth Session of the Fourth House of Assembly. He said, "The H. Lavity Stoutt Community College (or HLSCC), named in honour of one of our greatest visionaries, has granted BVI residents access to tertiary-level education since 1990. Over the past three (3) decades, the institution has experienced significant growth, expanding to offer Associates degrees in as many as 23 subject areas and 21 different professional certifications."
He added, "The college provides student life enrichment, a performing arts venue, Virgin Islands Studies, and access to Baccalaureate and Master's degree programs through collaboration with universities abroad. HLSCC has proven to be the ultimate start to a secure future for countless BVIslanders, residents, as well as international students. I am personally very proud of the vision, which has been seen to fruition in this institution and for that, I must do my due diligence by giving to HLSCC what is due."
Minister Turnbull then mentioned the cabinet decision that was made in 2019 to enable the college to expand its operations to further develop the people of the Virgin Islands through additional infrastructural development. The decision was to transfer a total of 134 acres of land to the Board of Governors of HLSCC.
He said, "As the Minister responsible for lands, I wish to conclude this outstanding matter once and for all in collaboration with the Ministry of Education, Youth Affairs and Sports. We have a duty to uphold the original agreement of transfer in the interest of the development of our people, and we need to do so in the shortest order."
He added, "Further to this, we have entered discussions with the college to obtain ownership of land in Virgin Gorda and hence the ability to build a fully outfitted permanent campus. For the past 30 years, the college has rented from Virgin Gorda commercial properties such as the Pickering Building and most recently Village Rose. The President and Board of Governors have put forth a vision for the college, which sees the Virgin Gorda Campus becoming a mecca for hospitality and culinary arts. Virgin Gorda being a prime destination for tourism, this development would garner interest from the community for much needed growth in the relevant industries."
Honourable Turnbull's full statement can be viewed on the Government of the Virgin Island's website at www.bvi.gov.vg.
The Government of the Virgin Islands continues to find innovative ways to promote a better quality of life for all residents and visitors in the Territory.
NOTES
Photo 1: Official photo of Minister for Natural Resources and Labour Honourable Melvin M. Turnbull
(Photo credit: GIS)
Author