Ministry of Natural Resources and Labour
Release Date:
Wednesday, 6 March 2019 - 5:18pm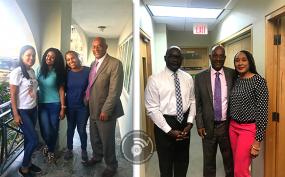 Minister for Natural Resources, Labour and Immigration Honourable Vincent Wheatley is featured as he visited the Immigration Department today, March 6. Honourable Wheatley's visit was to further familiarise himself with the department's operations as well as to get feedback from officers and their clients on solutions to enhance the entire Immigration process and make it more efficient. The minister was accompanied by Permanent Secretary Ronald Smith-Berkeley and Deputy Chief Immigration Officer Rosemary Callwood.
Author