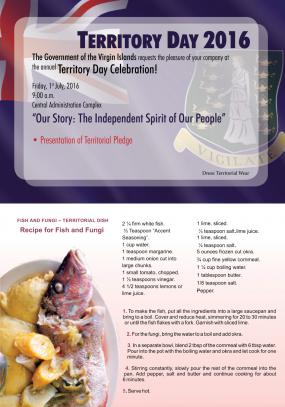 The Virgin Islands can now add the Territorial Pledge to its list of official symbols.
The pledge reads: "I pledge to my country, the Territory of the Virgin Islands, to encourage national pride and dignity, render patriotic service, promote justice for all, be true to God and remain dedicated to these Virgin Islands".
Minister for Education and Culture, Honourable Myron V. Walwyn introduced the pledge which was approved by members of the House of Assembly last Thursday.
Minister Walwyn said, "The establishment of a Territorial Pledge will further raise the level of pride Virgin Islanders have in our Territory. The pledge is designed to provide a constant reminder of what it means to be Virgin Islanders and to charge us with the care of these islands. The saying of the pledge will be a commitment of each resident to cherish the legacy of the Virgin Islands and preserve the essence of the Virgin Islands for generations to come."
The pledge, is a combination of submissions by Dr. Quincy Lettsome and Ms. Kamyce Penn, and was selected from a total of thirty nine entries received for the Territorial Pledge Competition held earlier this year. The panel of judges included Dr. Charles Wheatley, OBE; Dr. Patricia Turnbull; Mrs. Benedicta Samuels and Ms. Rea Vanterpool. Cabinet later approved the selection on May 27.
Entries were judged on the best description of the Virgin Islanders' spiritual, moral and democratic beliefs; representation of who Virgin Islanders are as a people and what they strive for - social justice, economic empowerment and political advancement; represent the spirit of Virgin Islanders exhibited through self-reliance, land ownership and a strong sense of belonging to the islands; elicit a sense of pride in Virgin Islands heritage; and longevity, to stand the test of time.
The winners of the Territorial Pledge Competition, Dr. Quincy Lettsome and Ms. Kamyce Penn will be officially recognised at the Territory Day Celebrations on Friday, July 1 at the Central Administration Complex at 9:00 a.m. The public is invited to attend to support the winners and participate in the entertaining and informative presentations. The stories of Christopher Fleming, Samuel and Mary Nottingham, and the Kingston Church of the Free Africans will be dramatised.
The Ministry of Education and Culture is committed to creating a "Culture of Excellence".
Author
Ministry or Department Associated with this News Article: