Ministry of Natural Resources and Labour
Department of Labour and Workforce Development
The Labour Arbitration Tribunal
Release Date:
Thursday, 9 March 2023 - 4:49pm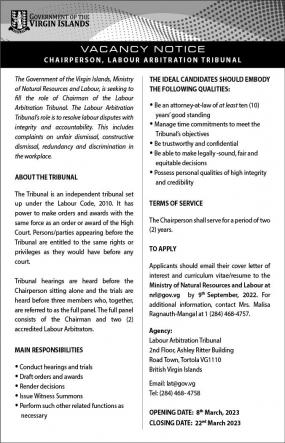 The Government of the Virgin Islands through the Ministry of Natural Resources and Labour is still accepting applications as it seeks to fill the vacant position of Chairperson at the Labour Arbitration Tribunal.
The tribunal is an independent body set up under the Labour Code, 2010. It has power to make orders and awards with the same force as an order or award of the High Court. Persons/parties appearing before the tribunal are entitled to the same rights or privileges, as they would have before any court.
Applicants must be an attorney-at-law of at least ten (10) years' with good standing, should be able to manage their time commitments to meet the tribunal's objectives, be trustworthy and confidential, be able to make legally-sound, fair and equitable decisions, possess personal qualities of high integrity and credibility.
A full description of the requirements for the position of Chairperson of the Labour Arbitration Tribunal can be found on the Government of the Virgin Island's website at bvi.gov.vg
Applicants should email their cover letter of interest and curriculum vitae/resume to the Ministry of Natural Resources and Labour at nrl@gov.vg by Wednesday, March 22.
Interested persons can also contact Mrs. Malisa Ragnauth-Mangal at 1 (284) 468-4757 for additional information.
The Ministry of Natural Resources and Labour continues to ensure that the supply of labour is commensurate with the level of development in all sectors of the economy under working conditions, which preserve the individuals' health, safety, and welfare.
NOTES
Photo 1: Labour Arbitration Tribunal Chairperson Flyer
(Photo credit: GIS)
Author