Ministry of Education, Culture, Youth Affairs and Sports
Elmore Stoutt High School
Release Date:
Thursday, 9 July 2015 - 8:15am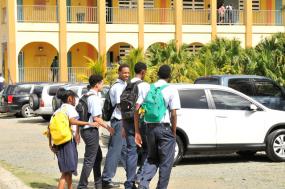 The 2015 to 2016 academic school year will see a change in uniform for junior students at the Elmore Stoutt High School.
The school's administrators are informing parents that effective September 2015, students in junior school Grades 7 to 9 will be required to wear a light yellow buttoned down shirt instead of the light blue shirt worn in the last school year. The physical education uniform of a blue and gold tee-shirt remains the same for junior students.
The administrators have also stated that the uniform for senior students at Grades 10 to12 will remain the same, but their uniform for physical education has been changed to a white and blue tee-shirt.
Acting Principal, Mrs. Sandy Underhill said, "The changes are being made in an effort to allow the administrative and teaching staff to better identify and distinguish the junior students and the senior students. It also allows the student body to identify each other as peers."
Parents and guardians are advised to purchase the school's uniform in the correct shade of yellow and blue. Uniforms can be purchased from recognised uniform brands, such as Asfour and French Toast, which can be found at most uniform distributors in the Virgin Islands. Additionally, the physical education uniform can be purchased on campus.
The administrators are also reminding parents and students that polo shirts are not permitted. All school shirts are to be embroidered with the school logo and no logo patches will be permitted.
For more information persons can contact the Elmore Stoutt High School at telephone number 494-3468.
Author