Ministry of Health & Social Development
Social Development
Release Date:
Thursday, 19 March 2020 - 5:30pm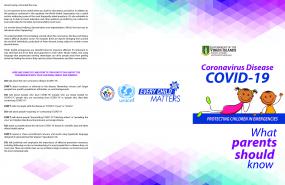 The Social Development Department is encouraging parents to ensure children are safeguarded at all times in response to the rapidly evolving coronavirus disease COVID-19 and school closures.
Supervisor of Family, Children and Protection Services within the Social Development Department, Ms. Laurel Freeman said, "During this challenging period we are encouraging parents to use wisdom as it relates to child care services."
This comes after the Premier and Minister of Finance, Honourable Andrew Fahie announced Cabinet's decision to close private and public schools which includes pre-schools, day care centres and extra-curricular activities effective Thursday, March 19 as an active pre-cautionary measure to the COVID-19 pandemic.
"There is a huge challenge for parents but especially vulnerable parents or single parents who may still have to work and may feel overwhelmed; we want to remind parents not to leave their children home unattended or unsupervised; organise appropriate supervised childcare and to reach out to the department if you have questions or concerns, " Ms. Freeman said.
Parents are reminded to reduce risk of COVID-19 by practicing frequent hand washing with soap and water for at least 20 to 30 seconds or using a 70 to 95 percent alcohol-based sanitizer, and by frequently disinfecting and sanitising surfaces and objects like cellphones, doorknobs and countertops.
The public is reminded to call 911, 311 or the 24-hour telephone hotline of 468-9371 and 468-9373 in Virgin Gorda in the event of an emergency or to report a suspected case of child abuse.
For more information, contact the Social Development Department at 468-3650. Persons can also contact the Ministry of Health and Social Development at 468-2274 or visit www.bvi.gov.vg/covid-19 for more information on COVID-19.
The Social Development Department remains committed to the safety and well-being of children and healthy families and this comes as part of their campaign 'Every Child Matters'.
Note: "Coronavirus Disease COVID-19 What Parents Should Know" brochure is attached.
Author