Premier's Office
BVI Ports Authority Ltd
Release Date:
Saturday, 25 April 2020 - 11:21am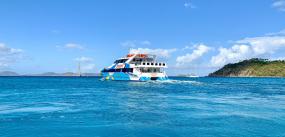 Residents can traverse locally via ferry and clear their packages at Port Purcell starting on Monday, April 27.
Premier and Minister of Finance, Honourable Andrew A. Fahie in a live COVID Update on April 24 stated that while the sea and cargo ports will be opened the Territory's borders remain closed.
The Premier said that the port at Purcell will be opened to allow for the receipt of shipment of cargo and other supplies. He added that ferries have been approved to operate for inter-island transit only from Monday, April 27 for 14 days between the hours of 6:00 a.m. to 1:00 p.m. under the new Curfew Order.
The Premier said that the borders of the Territory will remain closed during this time.
"Let me say upfront, during this phase of the reopening strategy, the borders of the British Virgin Islands will remain closed so no one can travel into the Territory during this time," he added.
Premier Fahie outlined the conditions for the reopening of the Territory's borders in the first instance.
"When the borders do open up for an initial period, only persons deemed to belong to the Territory and persons with resident status will be allowed entry but with strict condition," he said,
The Premier further added that at that time, entry will only be allowed at the Terrance B. Lettsome International Airport, subject to a pre-approval of passenger information seven days in advance of travel among other measures.
The Government of the Virgin Islands remains committed to rebooting the economy of the Virgin Islands during the COVID-19 pandemic.
Photo Caption: Photo - Ferry in Virgin Islands waters.
Author