Office of the Deputy Governor
Release Date:
Wednesday, 6 May 2015 - 11:45am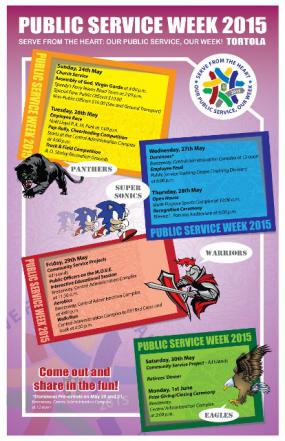 Public Officers are preparing to celebrate Public Service Week 2015 from May 24 to June 1.
The week, which is held annually, will see government ministries, departments and statutory bodies competing in various activities and sporting events.
This year's activities will be held under the theme, "Serve from the heart: Our Public Service, Our Week!." It will build on last year's focus where public officers got together in the spirit of camaraderie and gave back to persons in the community. Officers will continue their programme of renovating the home of a senior citizen on Tortola, Anegada, Jost Van Dyke and Virgin Gorda, providing a make-over to both its interior and exterior.
Chairperson of the Public Service Week Steering Committee, Ms. Tasha Bertie said, "This allows public offers to give back in a very tangible way to the community we live in and care about. It strengthens us and allows us to use available resources to help those in need while making a difference."
Other activities for the week include the Employee Feud and an Interactive Educational Session hosted in collaboration with the Employee Relations Unit of the Department of Human Resources' initiative, 'Motivating Officers to Value Exercise'- M.O.V.E. An aerobics class and a walk/run from the Central Administration Complex to the BVI Red Cross Building and back have also been planned.
There will be an Employee Recognition Ceremony, Open House, Dominoes competition and a Retirees' Dinner in addition to a Pep-rally, Cheerleading and Track and Field competitions.
An Employee Race competition has also been added to this year's activities. Four teams will race around town solving clues and figuring out challenges about various Government departments.
The public is encouraged to come out and support public officers during the week which will begin with a church service at the Virgin Gorda Assembly of God on Sunday, May 24 at 3:00 p.m. A special fare of $10.00 for both sea and ground transportation will be provided for all public officers.
Leading up to the week of activities, pre-events will be held for the Dominoes competition on May 20 and 21 in the Breezeway of the Central Administration Complex.
Public Service Week is held annually to highlight the contribution of public officers to the Territory's development and give members of the public an opportunity to gain a better appreciation and understanding of the work of the Public Service.
NOTE:
The team formation for Public Service Week is as follows:
Team A - Panthers: Ministry of Communications and Works
Team B - Supersonics: Governor's Group and Ministry of Natural Resources and Labour
Team C - Warriors: Ministry of Education and Culture and Ministry of Health and Social Development
Team D - Eagles: Premier's Office and Ministry of Finance
Author