Department of Disaster Management
Release Date:
Thursday, 5 February 2015 - 5:45pm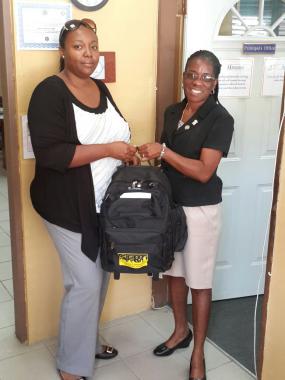 Schools in Sea Cows Bay have received pre-packaged school safety kits as part of the SMART School Pilot Project.
The presentations were made Thursday by Training and Research Officer at the Department of Disaster Management (DDM), Ms. Carishma Hicks.
Each safety kit consist of durable rolling backpack containing a number of essential items for responding to emergency or crisis situations on campus. The wheeled bags can be used by teachers during school evacuations or field trips and are specifically designed to support school emergency response programmes.
Thursday's presentations come on the heels of emergency response training that was provided by the DDM for teachers and parents from all three schools in Sea Cow's Bay, in collaboration with the BVI Red Cross and the Virgin Islands Fire and Rescue Service.
In September 2014, 30 teachers and parents came together to form Campus Emergency Response Teams which entailed training similar to what is provided for Community Emergency Response Teams (CERT) in the areas of First Aid, light search and rescue and fire suppression.
"The CERT training included several practical sessions which offered an opportunity for teachers to be prepared to handle emergencies that may occur in school," Ms. Hicks said, adding, "some have since been able to apply what they learned to address minor incidents that have occurred on the play grounds."
Research Officer further stated, "It is important that we not only train the teachers but provide them with the supplies and equipment that they will need to adequately and efficiently respond to emergencies. The school safety kits contain sufficient supplies to be used by a fully established team of six in each school."
The provision of school safety kits is one of the components of the SMART School Pilot Project being implemented at the Seventh-day Adventist School, Little Litehous Child Development Center and the Ebenezer Thomas Primary School.
The project seeks to illustrate how sustainable, mitigation, adaptation and resilient techniques can be used to make schools safer, healthier and more environmentally conscious. It has received full endorsement from the Ministry and Department of Education and involves school administrators, teachers, parents, children and community members.
The SMART School Pilot Project is funded by the Austrian Development Agency (ADA) through the Caribbean Disaster Emergency Management Agency (CDEMA), as part of the Mainstreaming Climate Change in Disaster Management in the Caribbean Phase II (CCDM-II) Project.
Author