Ministry of Education, Youth Affairs and Sports
Release Date:
Wednesday, 1 November 2023 - 10:45am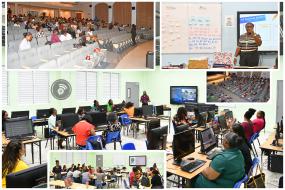 The Ministry for Education, Youth Affairs and Sports, recently hosted another professional day for educators. The day provided primary and secondary teachers with an opportunity to engage ministry officials on the challenges they face in the profession and the best way forward to have these issues resolved.
The educators are featured at the Eileene Parsons Auditorium at the Hamilton Lavity Stoutt Community College as well as at the Elmore Stoutt High School for the Science, Technology, Engineering, Arts, and Mathematics (S.T.E.A.M.) session.
Author