Ministry of Health & Social Development
Release Date:
Friday, 29 May 2015 - 2:00pm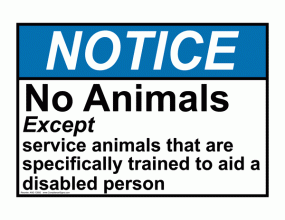 The Environmental Health Division is notifying the public that service dogs are now allowed at food establishments.
Chief Environmental Health Officer, Mr. Carnel Smith said a review was done on a decision taken by the department, to restrict the harboring of pets in all food establishments. He said the division has since made the decision to allow service dogs to accompany the disabled master to restaurants in the Territory.
Mr. Smith said that service animals are not "pets" but are individually and specifically trained to work or perform tasks for persons with disabilities.
He stated that managers and employees of food establishments are expected to ensure that only service dogs are permitted into their place of business. He said enquiries must be made as to whether the animal is needed due to a disability of its owner, and the service or tasks it has been trained to perform.
The Chief Environmental Officer said, "Although not all service animals wear special collars and harnesses and some, but not all, are licensed or certified depending on the jurisdiction from which they originate, it is preferred that some form of identification is presented to management and employees of the establishment in order to verify authenticity of the service animal."
He said the practice of taking or allowing pets in food establishments by food establishment managers, pet owners or lovers would no longer be tolerated.
Mr. Smith added that during the accommodation of persons requiring the aid of a service dog, managers and employees of the establishment must ensure that:
(1)The disabled person with the dog is seated in a location where other patrons would not be offended by the animal's presence;
(2)There should be no feeding of the animal in the establishment, petting, smoothing and cuddling of the animal by the owner or other patron since such practice runs the risk of contaminating table fabric, cutlery and eating utensils by persons handling the dog;
(3)If a service animal barks or growls at other people or otherwise acts out of control, the animal must be removed from the premises;
(4)The animal must not be allowed to roam the establishment;
Smith said the owner or manager of the establishment must impose the necessary rules to ensure sanitation within the establishment is not compromised when accommodating service animals.
Members of the public who observe rampant and careless harboring of pets in any food establishment can make a complaint by calling the Environmental Health Division at telephone numbers 468-9832 after 4:30 p.m. and 468-5110 during normal working hours. Complaints can also be registered through emailing ehd@gov.vg.
The Environmental Health Division is committed to ensuring that all aspects of the environment with the potential to negatively impact health are managed efficiently to enable all persons in the BVI to attain and maintain optimal health and social well-being.
Author