Office of the Deputy Governor
Release Date:
Thursday, 14 July 2022 - 5:01pm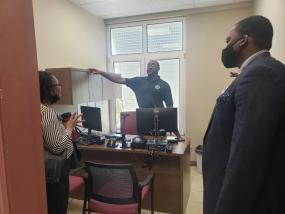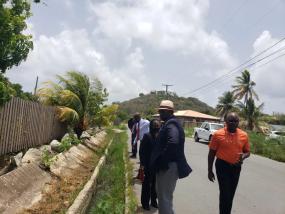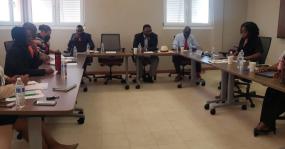 Members of the Sister Island Coordination Committee (SICC) met on Virgin Gorda, marking the committee's first time ever meeting on a sister island.
Deputy Governor, Mr. David D. Archer, Jr., who chairs the committee, said that having members meet on a sister island is the most efficient and effective choice as it provided a first-hand view of some of the issues presented at the meeting.
These issues are logged in the Sister Islands Matrix, a spreadsheet that is managed and maintained by the Sister Islands Coordinator and the district officers. The spreadsheet outlines the concerns on each of the Sister Islands and is said to be an important tool used to help guide the meetings.
The Deputy Governor said concerns are listed through discussions with ministry and permanent secretaries and department and unit heads who also provide status update and completion notes to the committee at the meetings.
Members also had the opportunity to visit departments under their respective ministries.
Mr. Archer Jr said, "Meeting on the Sister Islands directly allows the SICC to address issues more effectively. The goal of the Sister Islands Programme Unit is to develop programmes and projects to improve the delivery of services to Sister Islands. By visiting these communities, we have a better understanding of the unique needs and concerns shared."
The Deputy Governor added, "As senior leaders, we have all committed to ensuring the appropriate level of support is offered to all offices on the Sister Islands to guarantee clients are adequately served with the right level of attention and care they deserve."
Sister Islands Coordinator, Ms. Sasha Flax, also spoke of the importance of having the meeting on a Sister Island.
Ms. Flax said, "The senior officers were able to visit some of the main areas of concern, see first-hand what the challenges are, and most importantly, discuss solutions. It is our intent to have the next scheduled meeting on another Sister Island and continue to rotate."
The Sister Island Coordination Committee (SICC) is chaired by the Deputy Governor and is made up of Permanent Secretaries from each ministry, the Financial Secretary and the Sister Island Coordinator. Meetings are conducted quarterly to discuss plans to address issues identified on the Sister Islands.
Third and fourth quarter meetings are scheduled to be held on Anegada and Jost Van Dyke.
Author