Ministry of Health & Social Development
Release Date:
Friday, 24 April 2020 - 8:50pm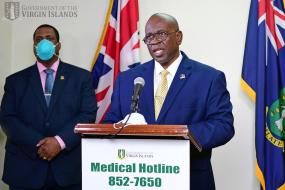 Minister for Health and Social Development Honourable Carvin Malone confirmed another positive case of COVID-19 bringing the total to 6 cases in the British Virgin Islands.
Honourable Malone stated that since his last update on April 19, an additional nine (9) samples were tested by CARPHA, eight (8) of which were negative for the virus that causes COVID-19 and one (1) additional positive case was detected.
Of the six (6) confirmed cases, three (3) have recovered, one (1) death, leaving two (2) active cases of COVID-19. Ten (10) additional samples have been transported to CARPHA today April 24 for confirmatory testing.
Honourable Malone said the Territory has implemented an aggressive contact tracing strategy which has resulted in 189 persons currently placed in quarantine and one person in isolation at the Dr. D Orlando Smith Hospital.
As of April 23, the World Health Organization have reported 2,544,792 confirmed cases, with 175,694 deaths reported. Honourable Malone stated that these numbers remain of specific interest as cases in the United States, United Kingdom, Puerto Rico and the Dominican Republic continue to rise.
"We all hope and strive for a healthier, safer and better prepared Virgin Islands in the face of the staggering effects of this COVID-19 pandemic," he said.
The public is reminded that there is no known vaccine and no specific antiviral treatment against the virus.
Therefore, prevention is critical to avoid being exposed to COVID-19. Persons should practice everyday preventive actions to help reduce the risk of respiratory viruses by frequent hand-washing, cough and sneeze etiquette, avoiding contact with visibly sick people and staying home when feeling ill.
Persons who have recently travelled and show any symptoms such as a fever, cough and difficulty breathing should stay home and seek medical advice early by contacting the medical hotline at 852-7650.
Author