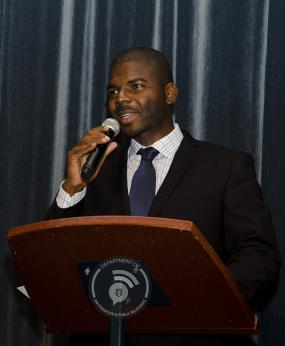 Minister for Education, Culture Youth Affairs, Fisheries and Agriculture, Dr. the Honourable Natalio Wheatley said the time has come for differentiated teaching and learning in order for each student to be taught effectively.
Honourable Wheatley while speaking at the opening of Education Week 2019 said, "It is time for differentiated teaching and learning to be utilised to reach every child in our care. The ability of each child is being considered, and the Ministry of Education is planning with them in mind".
The Minister also highlighted this year's theme of "Be Disciplined; Achieve Excellence," and advised teachers and students on the keys to keeping on the path of excellence through good discipline practices.
Honourable Wheatley stated, "I ponder on the last two words of this year's theme, for I believe those two words hold power and potential as excellence is inherent in us all. We all have power and potential to change our prescribed futures. In order to achieve excellence students have to practice good habits of attending school regularly, review notes, complete assignments and keep up with teachers in each subject by reading ahead".
Education Week opened on Sunday, March 10 with a ceremony and Talent Extravaganza at the H. Lavity Stoutt Community College and a Teacher Exchange among Primary and Secondary Schools on Tuesday, March 12.
Activities continued today Wednesday, March 13 with the Inter Primary School Sports – Division B at the A.O. Shirley Recreation Grounds and the Inter Secondary Schools' Debate Finals at the Althea Scatliffe Primary School Court Yard.
On Thursday, March 14, the Inter Primary School Sports – Division A will meet at the A.O. Shirley Recreation Grounds at 9:00 a.m. while Friday, March, 15 will be Open House at all Schools.
Please find attached:
Voice clip of Honourable Wheatley
Photo of Honourable Wheatley (Photo Credit to Dorian Hodge Videographer at GIS)
Audio
Author
Ministry or Department Associated with this News Article: