Ministry of Finance
Inland Revenue Department
Release Date:
Monday, 23 May 2022 - 3:19pm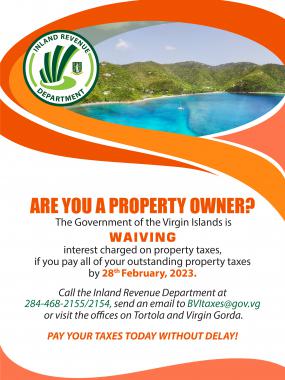 The Government of the Virgin Islands is extending to property owners 100-percent reduction on property tax interests accrued for the years 2021 and prior.
The period of relief of interests extends from March 1, 2022 to February 28, 2023. Property owners are urged to pay the outstanding principal (tax) forthwith, or agree to a payment plan with the Commissioner of Inland Revenue Mrs. Karen Smith-Aaron to liquidate the outstanding principal within the relief period.
Mrs. Smith-Aaron said, "It is the Government's intention to implement an amnesty on the interest for property tax with the hope that property owners will take full advantage of this opportunity to have their property taxes paid and in compliance with The Property Tax Act (Cap 207)."
The Commissioner is urging property owners to liquidate all outstanding property taxes. Property tax is due and payable on September 1 and extends to November 30 annually without interests being added. Property owners are also reminded that Land Instruments will not be processed at the Inland Revenue Department unless the Property Tax relating to the parcel is paid to date.
For more information, contact the Inland Revenue Department via telephone 468-2154 or 468-2155.
The Inland Revenue Department is committed to assessing the taxes, licences and fees due to the Government of the Virgin Islands; and applying the tax laws with fairness and integrity in an atmosphere of mutual respect, thus achieving compliance to maintain the economic and social well-being of the Virgin Islands.
Author