Ministry of Communications and Works
Fire and Rescue Service
Release Date:
Thursday, 5 May 2022 - 12:45pm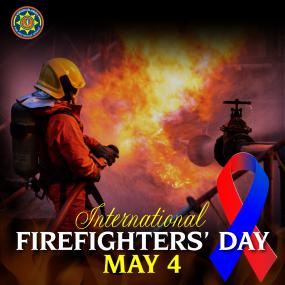 Minister for Transportation, Works and Utilities, Honourable Kye M. Rymer has commended Fire Officers throughout the Virgin Islands for their unwavering dedication to the protection of life and property.
Honorable Rymer in observance of International Firefighters Day on May 4 said, "It is fitting that the public stays aware of the selfless sacrifice of fire officers and recognise them for their commitment, bravery, professional and volunteer service offered to communities."
The minister added that he was pleased that the day is observed to recognise, remember, and honour the memories of fallen brothers and sisters and those who serve when chaos reigns.
Chief Fire Officer, Zebalon McLean in remarks on the hazards and risks of the profession said learning of fallen fire officers in other countries is always accompanied with a sense of loss and apprehension.
Chief McLean added, "Working in the small and relatively isolated Virgin Islands does not remove the same hazards and risks that all fire fighters around the world face daily."
The significance of this year's International Firefighters Day was promoted by:
Fire Services striving to prevent fire and improvement in intensive and thorough training.
People across the world expressing their gratitude by making donations, engaging in charity work and campaigns, and offering medical treatment to Fire Officers.
Persons expressing their appreciation for fire officers verbally through gestures, gifts and other forms of gratitude.
International Firefighters' Day is observed annually on May 4. The day was instituted after a proposal was emailed around the world on January 4, 1999 following the deaths of five firefighters in tragic circumstances in a bushfire in Australia.
The day's symbol is red for fire and blue for water as these colours are used mostly for emergency services.
Author