Ministry of Health & Social Development
Environmental Health
Release Date:
Friday, 24 April 2020 - 7:45pm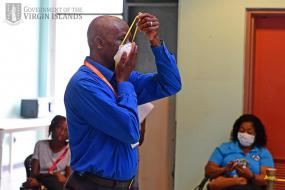 Officers of the Environmental Health Division will begin conducting inspections of private businesses in preparation of the re-opening of the Territory after the expiration of the 24-hour curfew.
The inspections will be conducted along with the recently trained Social Distancing Task Force starting on Saturday, April 25. This is to ensure that approved private businesses meet and enforce necessary safety requirements such as increased hygienic measures, social distancing measures and recommended personal protective equipment (PPE) such as face masks to prevent and stop the spread of COVID-19.
Businesses are asked to submit the names of persons who will be present to prepare the businesses for inspections by emailing ministryofhealth@gov.vg as soon as possible.
Author