Ministry of Health & Social Development
Release Date:
Thursday, 11 March 2021 - 11:58am
STATEMENT BY HONOURABLE CARVIN MALONE
MINISTER FOR HEALTH AND SOCIAL DEVELOPMENT
DURING THE SIXTH SITTING OF THE THIRD SESSION OF THE FOURTH HOUSE OF ASSEMBLY OF THE VIRGIN ISLANDS
ON WEDNESDAY 10TH MARCH, 2021
AT THE SAVE SEED
ROAD TOWN, TORTOLA
HEALTHY SCHOOLS PROGRAMME RELAUNCH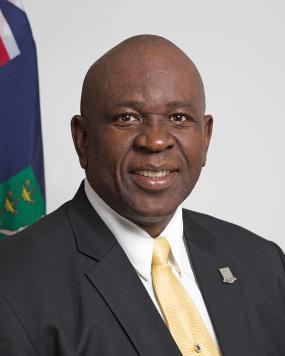 Minister Speaker, the Healthy School Programme is one of the interventions of the Non-Communicable Disease (NCDs) Prevention and Control Programme. Inadequate physical activity and unhealthy eating are two behavioural risk factors that contribute to chronic disease, which is identified as a significant health problem in the Territory. This programme is a joint venture of the Ministry of Education, Culture, Youth Affairs, Fisheries and Agriculture and the Ministry of Health & Social Development. Since this programme is a school-based intervention, the Ministry of Education has taken the primary role.
Public health research has long-established the vital role of nutrition and physical activity as two essential aspects of a good school health programme. We know that a healthy diet, including vegetables and fruits, can help prevent obesity and some chronic diseases such as diabetes, high blood pressure, and some cancers.
Mister Speaker, there is mounting evidence that also shows that age-appropriate, regular physical activity contributes to children's health and well-being. Good nutrition and physical activity contribute to the health of children, but there is also strong evidence that they contribute to the support of children's academic performance. According to research from the Center for Disease Control, United States, physical activities contribute to students' cognitive skills, attitude, and academic performance. The impact is also seen in children's enhanced concentration, attention and classroom behaviour.
Hence, I stress the importance of this initiative since it can help to improve our children's health, which is also important with the treatment of COVID-19 as well. So I encourage principals, parents and teachers to work together to keep our students healthy.
Mister Speaker, I want to acknowledge the technical and financial support that we have received to continue this programme. I also want to thank the Caribbean Public Health Agency for providing technical and financial support in getting this programme started and restarted, and the UK Public Health Agency for providing 20 scales for participating schools.
Mister Speaker, I say a huge thank you to the BVI Olympic Committee for its outstanding contribution to providing and promoting physical activity in the Territory and this school programme. Through the BVI Olympic Committee, we were able to form an alliance with Sport for Life, Canada, the leading international agency in promoting physical activity. Sport for Life Canada provided technical support for the physical literacy component of the healthy programme. The BVI Olympic Committee also obtained a grant from Olympic Solidarity to purchase essential physical exercise equipment for primary schools and ten pre-schools, printed educational material, and conducted a communication campaign to promote physical literacy benefits in schools.
I wish to thank also the Permanent Secretary, Ms. Petrona Davies, Permanent Secretary, Ministry of Health and Social Development, who provided funding to replace the educational material for the programme that was destroyed by Hurricane Irma. In addition, the Permanent Secretary also provided funding to support Sport for Life Canada consultancy.
Mister Speaker, long term sustainability is often the chief reason why many programmes fail. Therefore, to ensure ongoing support for this necessary intervention, my Ministry is finalising a Memorandum of Understanding with the BVI Olympic Committee to continue its collaboration to the development of physical literacy in school and at the community level.
The Ministry will continue to support collaboration on various levels and is finalising the updated Memorandum of Understanding between the Ministry of Education and Ministry of Health to strengthen school health education.
Ms. Patrice Maduro, Public Health Nutritionist in the Public Health Unit serves as the Ministry of Health's new liaison officer to support this programme.
Mister Speaker, in closing, I wish to thank Dr. Irad Potter, Chief Medical Officer, and Dr. Marcia Potter for their untiring effort to ensure the programme was implemented. Special thanks to the senior staff in the Ministry of Education, and the health liaison teachers at the community level for their cooperation and collaboration in making the Healthy School programme a reality and a priority.
I thank you all for listening and wish to encourage all parents and students to participate and participate well.
Thank you very much.