Premier's Office
Release Date:
Thursday, 6 June 2019 - 8:31pm
STATEMENT BY PREMIER AND MINISTER OF FINANCE
HONOURABLE ANDREW A. FAHIE
ON THE FIRST 100 DAYS IN OFFICE

"Restoring Hope and Prosperity to All"
Thursday, 6th June, 2019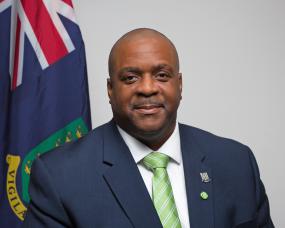 Fellow BVIslanders, patriots, residents, and well-wishers; good day and God's Blessings.
On behalf of my government, I want to thank all the people of the British Virgin Islands for this awesome honour to lead our recovery and development at this stage in history.
It was 100 days ago, that the people of this Territory gave the Virgin Islands Party the mandate to lead for the next four years, and to usher in a new era of change and renewal.
We came into office understanding the challenges that face us as a people; and also understanding that it will take bold, sometimes even unconventional, leadership.
We hope we have provided that.
Our goal at the core has always been to build a strong and prosperous Virgin Islands.
I am pleased to report that my team has been hard at work on your behalf.
We all understood the magnitude of the moment and the sacredness of the opportunity —and we have been putting our shoulders to the wheel.
We have been busy restructuring the levers of government; replacing and strengthening Boards of Statutory Bodies and seeking to build a more efficient public service.
It is clear that public sector efficiency MUST be a key element of improving the lives of our people.
But the lessons of the first 100 days have told us about the crucial needs of improving the efficiency of the public services; setting up a broad policy unit and making our processes more accountable.
We will continue to build on that foundation being set, going forward.
Our first 100 days have confirmed to us what we knew coming in: that there is a challenge in governance that MUST be fixed to be able to deliver for our PEOPLE.
The problems are both structural and historic; understanding that our system that was set up a long time ago, and is now not compliant with modern challenges and realities.
When we came into office, we had to act quickly on a new national budget, with the built-in deadlines approaching shortly after the general elections.
We were able, against the tightest constraints, to present a transitional package.
Importantly, we outlined our agenda for building our tourism sector, diversifying the economy and investing in our youth.
We announced our commitment to pay public servant increments in a phased approach; and set out the agenda for housing development and small business development.
Education is an area that we have been focused on from day one.
We were able to fast track the process and sign construction agreements for the L Shape building in Road Town at the Elmore Stoutt High School (ESHS).
Because of this, we remain confident that our Elmore Stoutt High School students will return to attending school full time in September 2019 for the first time since Irma in 2017.
In these first 100 days, we have also begun to lay the foundation for what will be comprehensive Immigration and Labour reform.
We have shown leadership on this issue; the kind of leadership that will be needed for a successful conclusion.
We call on Members of the Opposition to join us in this national endeavour; to be genuine leaders, rather than be flame throwers; and to be influenced by the national good, rather than narrow and hypocritical political considerations.
Given the makeup of our economy; the challenges of the larger world outside and the need for more investments, we view immigration and labour reform as a fundamental element for our future economic development.
Through our many public consultations, it was clear that views were very strong on both sides.
But we are determined to find common ground for this uncommon problem.
Our government is clear that doing nothing is not an option; it only postpones the obvious, only for it to have dire consequences the longer we wait.
The consultations on the broader Immigration and Labour reform will continue in the coming weeks and months; having been satisfied that we have set the template for openness in debating the process.
The thing I am most pleased about in this first 100 days is the fact that we have begun to open up the government.
We have held more consultations; facilitated more presentations by stakeholders and listened to the people at functions wherever they are.
Some even complain that we are going at a dizzying pace.
But we want to send an early signal that our Government is worthy of opened scrutiny.
We are determined to build on that aspect of our functional democracy by setting up District Councils so that voters can have a say on all matters of government.
These Councils will also be the forum for the consultations on the next national budget later this year.
In the first 100 days, we have begun looking at policy also to deal with our housing challenges; set up a framework for youth employment, to which major announcements are coming soon.
Our government has set up about strengthening ties in the region, understanding also that this is a useful tactic that will aid our national development.
I attended the OECS Heads of Government meeting in Guadeloupe and promoted the concept of better trade and stronger cultural exchanges between our territories and nations.
I attended the summit of the Association of Caribbean States – ACS, and among many things we discussed was disaster management coordination – an issue that is very crucial for us.
I attended the Seatrade Tourism Conference in Miami, and held important meetings to bolster our cruise tourism industry. We are seeking to have consistent and increased calls in the coming period.
Only this week I participated with the fourth meeting of the Clinton Global Initiative.
In the immediate period, I will attend the wider CARICOM Summit to deal with regional matters such as tourism marketing and air travel.
In 100 shorts days, we have lifted the profile of the BVI, and created broad awareness to both our struggles and successes.
We have begun laying the foundation to usher in the era of change and renewal that we promised.
We understand that it won't be easy; and as with all aspects of life, there will be bumps along the way.
As we seek to do more, faster; we acknowledge that there might be even errors along the way.
But if we have proven anything in this first 100 days is that fear will not paralyze us; and this Territory shall get better because this Government, with focus and determination, shall push on.
We invite your scrutiny, but most importantly we encourage your faith; and even when the temptation comes, we implore you to let scepticism be replaced by hope.
I thank you very much.
https://bvi.gov.vg/sites/default/files/report_by_premier_fahie_on_the_first_100_days_in_office_-_june_6_2019.mp3