Welcome the Virgin Islands Immigration (VIID) online. The department was established in 1969. Before that time the functions that officers now perform were carried out by officers of the Royal Virgin Islands Police force.
Today we are a department of over sixty employees and growing. It is the department's mandate to facilitate the utmost efficient services for all persons traveling to and from the Virgin Islands for the purpose of residing or visiting and to facilitate this call to duty in accordance with the Virgin Islands Passport and Immigration Act, CAP 130.
The Virgin Islands Immigration Department recognizes the critical role that it must play for the sustained and orderly economic development of the Territory. Our officers must operate in a way that values the position of these islands as a world class travel destination and an international financial business center which seeks to attract visitors and businesses that are fit and proper and conducive to the public good for the benefit of its people.
Vision
By 2016, the Immigration Department will be comprised of highly trained and motivated officers, utilizing advanced technology in providing exceptional services to the public.
Mission
Ensure that all, Non-Belongers (persons who do not have a Certificate of Residence, Belonger Status or Naturalization) entering the territory qualifying as desirable visitors and that their residence, employment and business activities are monitored, regulated and controlled, while at the same time providing professional and courteous service.
Core Values
We believe in:
Providing our customers with efficient, impartial and courteous service.
Conducting our Government's business with openness and the appropriate level of confidentiality.
Respecting and giving due consideration to the views and opions of our customers and employees.
Awarding employees with official commendations for excellent service beyond their call of duty.
Behind motivated team players, with employees who enjoy what they do and are keen to give satisfactory service to our customers.
Services
Issue and Renew Entry Permits
Grant Extensions to landing permits where necessary
Enture the Territory's Immigration law are enforced through routine surveillance operations
Process passengers entering on airplanes and sea-borne vessels
Acquiring Resident and Belonger Status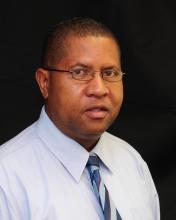 Ag. Chief Immigration Officer
Department Contact Information
To make contact with Immigration Department, see below for contact information:
Immigration Department
P.O. Box 2299
Road Town, Tortola
Virgin Islands (British) VG1110
Business Hours:
Monday - Friday 8:30 a.m. to 4:30 p.m.
Cashier : 9:00 a.m. to 3:30 p.m.
Email Address:
immigrationinfo@gov.vg
Telephone: 1(284) 468-4700
Fax: 1(284) 468-4729